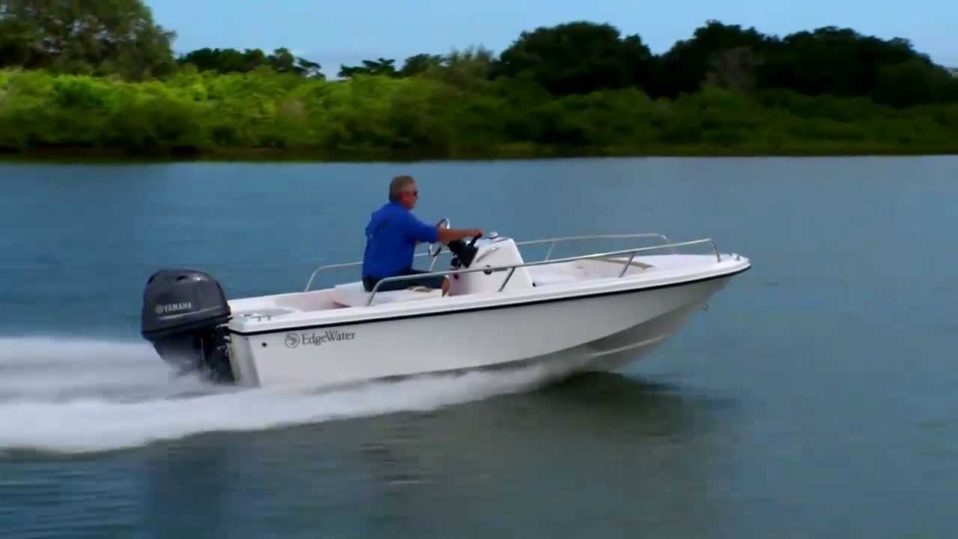 EdgeWater 158 CS Boats
If you are looking to buy a small center console fishing boat you should be shopping for an EdgeWater 158 CS boat for sale. Designed for freshwater fishing, the boat is relatively versatile, serving amazingly as a tender companion boat for the lake.
EdgeWater 158 CS Specifications
Powered by an outboard Yamaha F70 HP, the EdgeWater 158 CS is a relatively versatile center console fishing boat, known to be a center sport fishing boat. When it comes to performance, the boat is relatively fuel efficient, achieving best efficiency at about eighteen miles per hour cruising speed, while the top speed of the boat is about thirty five miles per hour. With an all-foam filled unsinkable hull, the boat is rather a great companion boat for the lake, or a tender for your yacht or boat at the marina.
EdgeWater 158 CS On Board Comfort and Performance
When it comes to on board comfort and performance, the EdgeWater 158 CS has a stainless steel safety reel on the sides of the boat and comes with optional seat cushions with a huge storage compartment, perfect for any fishing equipment. What's more, you can find additional storage by opening the center console, as well as access to the battery. On board you will also find a strapped down cooler and can seat as much as three people. While primarily a fishing boat, the EdgeWater 158 CS can offer some versatility, being powerful enough to serve as a wakeboarding or waterskiing boat for the kids. Allowing for easy access, the boat also has a swim ladder.
Ready to shop EdgeWater 158 CS boats for sale? Vessel Vendor is an online resource for boat buying and selling online near you. Use our free boat classifieds to search current inventory, or sell your EdgeWater 158 CS online with a boat listing package starting at $29/month.
EXTERIOR STYLE/DESIGN
INTERIOR & SPACE
EQUIPMENT & FEATURES
LUXURY FEATURES
ENGINE PERFORMANCE
RIDE & EASE OF DRIVING
OVERALL HANDLING
PRICE & FUEL EFFICIENCY