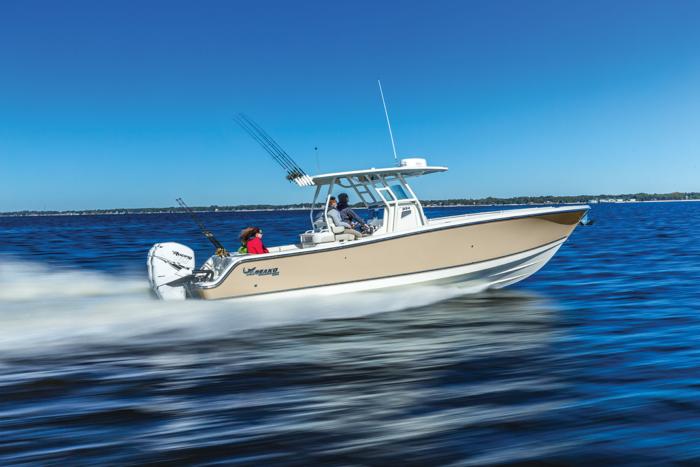 Mako 334 Center Console Boats
Sports Fishing at its Best
The number of fishing vessels available for purchase today is staggering. With every passing year, more boat models come out with new features, but one company has all others beat when it comes to producing excellent boats. That company is Mako and if you are looking for Mako 334 CC boats for sale, you are in search of one of the best and overbuilt sport fishing vessels on the market today. Mako takes pride in the craftsmanship of every vessel they produce and this one is turning heads everywhere it goes.
Speed When You Want It
The performance of a vessel is quite important. You want a boat that can speed through the waves and choppy seas with ease and that is not always easy to find. Many vessels are fast, but tend to splash water up everywhere they go making for a not so enjoyable ride experience. The designers at Mako have worked to ensure that the ride quality of the Mako 334 CC boat is exceptionally dry with a deep hull design that sheds away water like a champ. They have also engineered the boat to utilize either twin or triple engines depending on the needs of the customer. The standard motors available come directly from Mercury, a trusted company throughout Florida and include twin 300 XXL Verados, 350s, and 400s, all with joystick piloting. For those that simply crave more power, triple 300s and 350s in your choice of black or white are available as well.
The Little Details
Storage is paramount on any boat, especially when reaching high speeds. There is truly no telling how many pairs of flip flops or sunglasses fly off and into the water never to be seen again each year. These small items do not always have ample storage space on traditional center console vessels, but the designers at Mako have truly worked to ensure that everything is available on the Mako 334 CC boats for sale. That includes storage for small items. At the bow of the boat, there is an integrated mesh storage system that is easily removed when not needed, but at times when you may be taking the family out for a fishing trip or just a day out on the water, small items slip easily into the compartments and are secure at all times. There is truly no need to help the numbers of small personal items lost at sea to go up on this boat.
Easy Access Storage
When it comes time to take the Mako 334 CC boat out for a day with fishing buddies or family, you will need ample storage and this boat has it everywhere. A drink cooler is conveniently located in the center of the boat beneath the forward console seating area. This is the perfect central location easily accessed by all. The storage continues with insulated, self-draining fish boxes beneath the bow seating and even storage for larger items beneath the deck. Midship, you will find ample lockable tackle storage so everything can remain safe and secure. Secure lockable storage areas are also found in the top of the center console to conveniently house wallets and personal items far out of reach of little ones.
At the Helm
The helm features comfortable seating for two, but also folds up to provide a leaning post for added control when the boat is in motion. Additionally, at the helm there is plenty of room for two full-size navigation screens and easy access to all controls. Due to the center console design and expert design features, the driver always has a clear view of where they are going and where they may want to go as sight is not interrupted by excessively large support poles for the hard top. With this boat, you will always remain in control and comfortable no matter where your journey takes you.
Specs:
Length:                                 33' 4"
Beam:                                   9' 10"
Max HP:                               1050
Fuel Capacity:                    306 Gallons
Draft:                                    21"
Weight:                               11,955 lbs.
Looking for Mako 334 CC Boats for Sale
Shopping for boats is difficult and when you are looking for specific models such as Mako 334 CC boats for sale it can be very difficult to find the exact one that fits your needs. We at Vessel Vendor are the answer to this problem that you have been looking for. Unlike other online classified resources available that merely have a small number of boats in their inventory, we service all of Florida and therefore our inventory is vast and very diversified. We also have the option in place where you can sell your boat with us and then purchase the one you want. It is a win for everyone.
EXTERIOR STYLE/DESIGN
INTERIOR & SPACE
EQUIPMENT & FEATURES
LUXURY FEATURES
ENGINE PERFORMANCE
RIDE & EASE OF DRIVING
OVERALL HANDLING
PRICE & FUEL EFFICIENCY