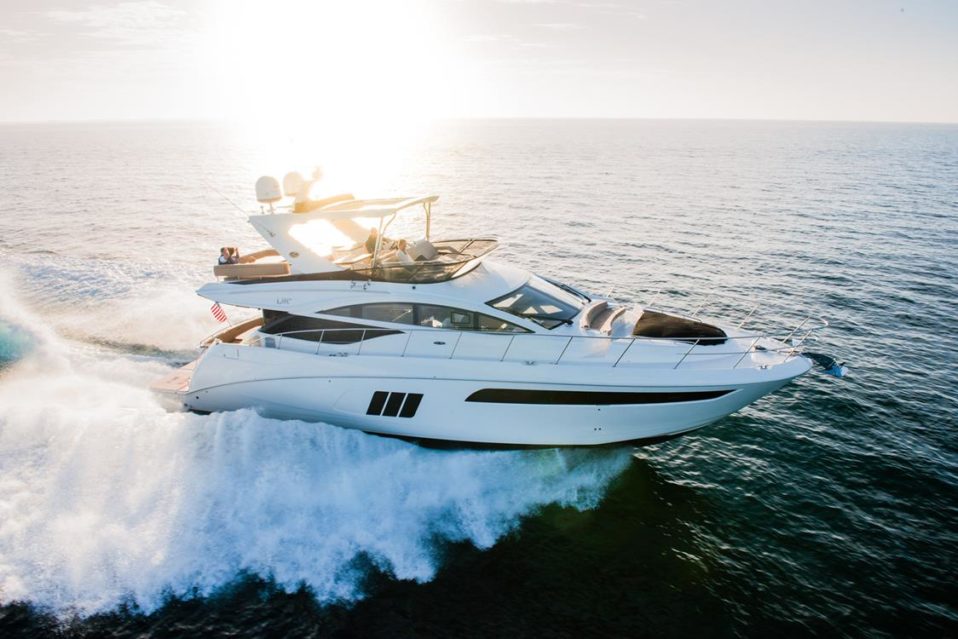 Sea Ray L590 Fly
An Immaculate Yacht
Yachts come in a range of various styles to accommodate all types of yacht enthusiasts, but what is necessary across the board is the need for thoughtful design. Sea Ray is known for their exceptional quality vessels and among their many models, the Sea Ray L590 Fly boats for sale have proven to be a fan favorite. Their popularity is not simply due to the exceptional modern look of the vessel, but the strict attention to small details throughout. Designers took their time and it shows with this yacht.
Power and Performance
On a yacht the size of the Sea Ray L590 Fly, stability can be of concern. A stable ride is most notably felt on the flybridge deck and therefore, extreme concentration was given to stability when designing this vessel. The deep V hull design allows the boat to seamlessly slip through the water and with a 16" beam, stability is never a problem.
Propulsion for Sea Ray L590 Fly boats is provided by a single engine configuration, but the high performance features of the engines provide an optimal ride experience every time. Three 600 HP Cummins Diesel QSC 8.3 engines provide a top speed of just over 31 knots with a range of 302 NM. Cruising speed comes in at around 23 knots with an expected range of 295 NM.
Low Speed Maneuverability
It can be simple to design a yacht that performs well at high speeds, but it takes much more effort to design a vessel that is maneuverable at low speeds and performs while docking. Sea Ray L590 Fly boats are designed to be easy to port even in the smallest of spaces through joystick piloting. While using small pulses, even novice boaters can expertly dock the vessel.
Accommodations
Interior comfort is always a concern with any yacht and onboard the Sea Ray L590 Fly, guests and owners can stretch out over three luxurious staterooms with two perfectly appointed bathrooms. A full beam master maintains a queen berth, corner seating area, a large bathroom, and plenty of available closet space. The master is also slightly recessed from the other staterooms, so it acts as a true retreat for owners.
Opposite the master situated into the bow is an additional full stateroom with two closets. Access to the second bathroom is shared between this and the third smaller port side stateroom featuring two single bunks and again, more closet space.
Extended Outdoor Space
Open plan living on the main deck provides ample space for entertaining friends in the interior lounge space or cooking for guests in the expansive galley, but what is more enjoyable is the expanded outdoor spaces awarded to the vessel. Retractable aft doors lead to a large aft deck featuring an oversized convertible seating area that can easily be changed into an aft lounge. An additional grill option provides another place to entertain and feed guests and a few steps bring guests to the expansive hydraulically controlled swim deck.
In the bow of the Sea Ray L590 Fly guests can enjoy the large, adjustable sun pad to soak up the sun, while others can sit along the curved couch integrated into the deck to enjoy ever changing views. No matter where you find yourself onboard, you can expect a dry, stable ride.
Specs:                  
Length:                                  58' 10"
Beam:                                    16"
Draft:                                     56"
Weight:                                 58,000 lbs.
Fuel Capacity:                     1,050 Gallons
Water Capacity:                   200 Gallons
Looking for Sea Ray L590 Fly Boats for Sale?
Due to an influx of available boats and yachts in recent years, the pre-owned boat market is flooded leading to most owners turning to various online boat classified resources to sell their vessels. Many of these crafts are merely a few seasons old, so they maintain many of the same updated features as new vessels, but offer supreme value. When shopping pre-owned, Vessel Vendor is the top resource in Florida.
Our vast inventory encompasses all types and styles of vessels, including Sea Ray L590 boats for sale, so there is no limit to what can be found on Vessel Vendor. We believe in taking care of our users, so listers with us enjoy an easy to use self posting platform and the cheapest seller fees of any comparable site in Florida. This format has proven beneficial in keeping Vessel Vendor is an ever rotating inventory for buyers to browse.
Vessel Vendor's inventory is not the only draw to the site. We provide an additional service in our boat educational tools as well. With us, users can find information on boating topics such as maintenance tips and the newest boats available from popular brands. There is no limit to what you can find with Vessel Vendor, so Visit us today. Should any user have questions or concerns, they are encouraged to utilize our online contact form and as always, Happy Boating.
PRICE & FUEL EFFICIENCY
INTERIOR & SPACE
EQUIPMENT & FEATURES
LUXURY FEATURES
ENGINE PERFORMANCE
RIDE & EASE OF DRIVING
OVERALL HANDLING
PRICE & FUEL EFFICIENCY